Bathroom Builders & Water proofing Contractors
– Servicing Greater Brisbane Area –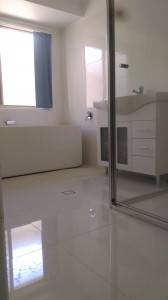 Water proof Contractors
Bathroom Builders
Home Repairs
All work to Australian Standards
AS4858/2004

AS3740/2004

AS4654
Water proofing & Bathroom Builds Guaranteed
All work on bathrooms has a QBCC guarantee of 6 years, all work has a guarantee and a certification certificate. We use and recommend all Australian Standard products. We are fully licensed Bathroom Builders and Water proofing Contractors who's clients are home owners, builders and local Government Departments. For a fast, efficient and superior finish to any job, no matter what the size 
TYPES OF WATER-PROOFING WORK
Complete Bathrooms Reno's
Bathroom Water proofing
Wet Areas water proofing
Damp Proofing
Drainage
Basements tanking
Roof repairs
Box Gutter relines
Bathroom design
Property Maintenance
Leak Detection & Repair
Moisture Tests
Retaining wall Water proofing
Concrete Repair
Now you can benefit from the expertise of a fully licensed bathroom builder, water proofing, damp proofing contractor and property maintenance company that's been servicing Brisbane for 15 years.
We also carry out leak detection work, box gutter replacements and roof leak repairs.
Click here to see how we can help you with your Bathroom Building & Brisbane Water proofing needs.